5 Planets Are in Retrograde This Month: How to Deal
Ok, ok, ok. If you haven't already heard/felt out of whack in every way, shape, and form, it's because fucking Mercury decided to pull a John in the John & Kate Plus 8 equation and ghost the fuck out (side note: if anyone who reads this actually dined at Applebee's and John was your server, you have all the permission/responsibility in the world to slide in our DM). Anyways, Mercury, known best for its power in communication between the signs, is nowhere to befound. #RetrogradeAF. There are a lot of questions floating in the air: are Blac Chyna and Rob really a thing, is Kendall Jenner really a racist, and how many more goddamn runway videos is Britney Spears going to upload before Mercury comes rolling back to our door? #2theleft2theleft.
Well, fear not. we've put together a guide that will take that lil heart of yours and put all the pieces back together. Include these tips into your routine this month and baby, you'll be a firework.
Binge Watch Sex and The City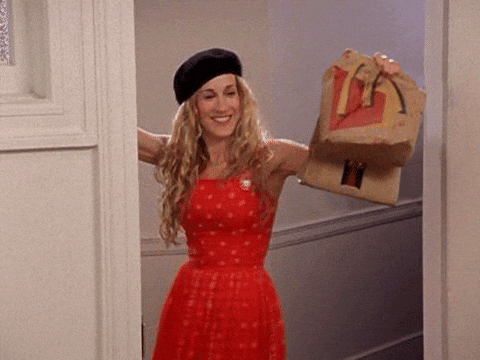 It's true, watching Carrie Bradshaw and company navigate their sex lives through the city that doesn't cater to anyone makes you feel equally angry and hopeful about your surroundings and cravings for that d…or a treat from Magnolia (or McDonald's).
Plan Your Halloween 2017 Costume
How many times have found yourself anxious AF on October 31 because you have nothing to wear and don't want to be alone. Don't be that person. Step up, change your ways, and figure out what or who you are going to be for Halloween.
Now That's What I Call Music 
Take Now That's What I Call Music 1—96, and go for long walks (both physically and metaphorically) to remind yourself how far you've come. From Mandy Moore to Nickelback, all of the angst moments you worked through can officially come full circle.
Face Masks DUHHHH
You've seen those chic ass face masks all over. Treat yourself. Go for the gold (literally) or the ghost looking one and let hydration and blackhead removers work for you.
Catfish @ Coachella
Why not jazz up your basic Coachella lyfe by using your skills as the deviant, cyber-queen you know you are and make someone fall in love with your alter named Jared who claims to be cis-DJ who loves a good hotdog and Modern Family marathon.
Just remember babies, mama Lana is pulling through soon with a new album in May that is guaranteed to reshape us all. For the better? Probably not. Forever? Definitely. HAPPY RETROGRADE.
Images via Intro Magazin, Eric Lawrence, Pure Rock News, Bianca Valle, and Koury Angelo
Stay tuned to Milk for more astrology advice we love.