Comme des Garçons x Supreme's 2nd Collab Is Fire!
Margaritas. Spiderman Reboots. Twins Olsen and Winklevoss. Some things are just too good to only have one of, which is why Comme des Garçons and Supreme are collaborating for a second time. CDG and Supreme have teamed up once again to bring more misunderstood skater realness into our lives — and this time, there's tartan.
The collection, which drops in the US and the UK today, is elevated English streetwear. It has a definite British punk feel to it, but mellowed out, like if Sid Vicious switched his drug of choice from heroin to weed. But when paired with muted military colors, classic workwear, and playful polka dots, the collection becomes something that's way more than just the sum of its parts, creating a look that's part '80s Vivienne Westwood, part Chinatown skater boy, and part dad on a golf course.
The flannel button-down shirts come in raucous reds and blues. The sweatshirts and long-sleeve tees are more understated, but contrast excellently with the bright tartan. It's certainly a departure from the heavy skater feel of CDG and Supreme's first collab — the army camo of 2013 is sadly no more — but we're feeling it nonetheless.
The long-sleeve tees, fleece hoodies and plaid pants á la Bagger Vance are more than enough to get excited about. But now it's time to get down to the really important stuff here — these boots.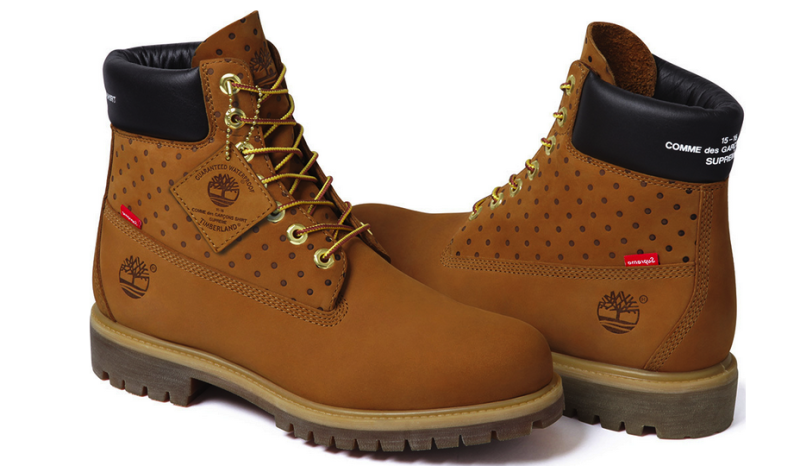 That's right, this awesome twosome is actually a threesome, and Timberland is the unicorn. CDG and Supreme decided to remix the classic work boot / hip hop statement piece, and the result is something unexpectedly charming. They come in a very street-chic all-black, and you can snag a pair of those tomorrow. Sadly, the spotted Timbs above won't drop until December. Until then, you can join us in refreshing the store page and crossing our fingers. You never know when someone might pull a Beyoncé.
Photos via Supreme.
You can buy the collection tomorrow, here.